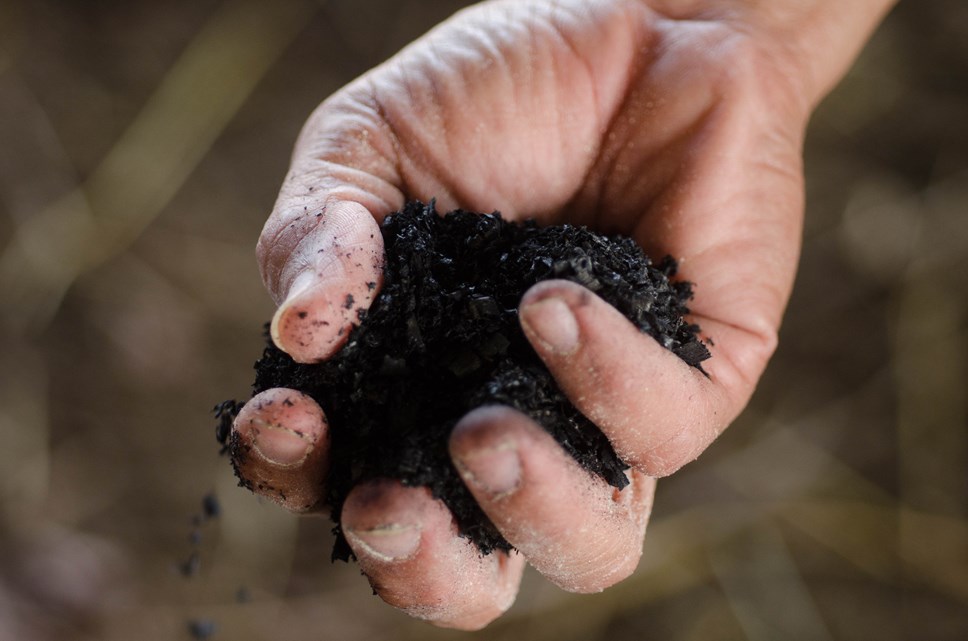 Arla celebrates victory in BEIS competition enabling the start of biochar innovation project to explore greenhouse gas removal for farmers
A consortium of eight organisations, including farmer owned dairy cooperative Arla Foods UK, has been awarded funding as a part of the government's Direct Air Capture and Greenhouse Gas Removal Technologies competition. The project will test the feasibility of using biochar commercially in agriculture. The consortium believes that if this could be achieved and biochar became commonly used across agriculture, it could result in significant amounts of carbon being removed from the atmosphere and stored in farm soils for centuries, whilst also supporting good soil health.
The group of industrial, agricultural and research partners, led by the sustainability consultancy Sofies, seeks to transform the greenhouse gas removal market at pace by creating the first integrated biochar network consisting of BSW, one of the largest forestry and sawmilling businesses in the UK and Arla Foods, which has 2,400 farmer owners based in the UK. Using co-products arising from the sawmilling industry, BSW can create biochar through a process called pyrolysis. The Biochar can then be used on Arla farms, either by mixing it with slurry prior to application on fields or through bedding systems (both options will be assessed in the project).
So what is biochar?
Biochar is a highly stable form of carbon produced by heating biomass in a low-oxygen environment through pyrolysis. The process takes the carbon sequestered by the trees and converts it into biochar in a pyrolysis unit, which can then be distributed to farms and stored in the soil for over 500 years. Benefits include:
Providing long-term carbon storage: Biochar is a safe way to rapidly increase soil carbon without changing land use.
Greenhouse gas emissions reduction: This can be achieved through the interaction between biochar and slurry in the field, which will lessen nitrification and resultant emissions.
Ammonia and odour reduction: Biochar can be used as a sorbent in bedding. It will dry out the bedding and the manure, which will in turn reduce ammonia emissions.
The improvement of soil functions: Studies have shown that biochar amendment can improve soil health and fertiliser use efficiency.
The consortium is supported by some of the best industrial and research bodies in the UK and Germany including Newcastle University, University of Edinburgh, UK Centre for Ecology & Hydrology (UKCEH), Biomacon and R&S Biomass. They believe that the reason for the commercial failure of biochar to date largely boils down to the business model, not the technology. Their early estimates suggest that 2.1–3.6 t CO2e could be removed per tonne of biochar used on farms, meaning that if the trial is scaled up across Arla UK farms, the potential for carbon removal could be an estimated 57,150 t CO2 removal by 2030. That's the equivalent of the annual electricity emissions from 10,000 homes, or the annual exhaust emissions of roughly 12,500 cars1.
The Direct Air Capture and Greenhouse Gas Removal Technologies competition is run by Department of Business, Energy and Industrial Strategy (BEIS) and sits as part of the government's Net Zero Innovation Portfolio. As one of 24 projects in Phase One of the competition, the consortium will now move to identify roughly ten Arla farms to help develop the concept of a low cost biochar network and assess the feasibility of the idea. If the feasibility study is deemed successful, BEIS will award the project Phase Two status, where the system would be funded by BEIS and demonstrated on farms. Phase Two is expected to begin in the first half of 2022.
Alice Swift, Director of Agriculture at Arla Foods, comments, "We're delighted that the potential use of biochar to capture carbon has been recognised by the Department for Business, Energy and Industrial Strategy. As we have learnt through our Arla farm innovation programme, new technologies must be trialled by farmers to establish them as practical and affordable solutions. Financial support for farmers to do this is essential. Our consortium includes farmers, scientists, economists and multiple industries all working together. This integrated approach to climate solutions will play an essential part in scaling up future working practice that drive circular economies and remove carbon and other greenhouse gases at scale."
The biochar used in this ground-breaking project will be manufactured using wood chips from the UK's largest integrated forestry and sawmilling business, BSW Timber.
BSW is the largest producer of sawn timber products in the country and utilises the whole log, with co-products – the bark, chip, sawdust and shavings – ensuring nothing goes to waste.
Tilhill, the UK's leading forestry management company, is part of the BSW Group. Tilhill's Managing Director Gavin Adkins comments:
"We're particularly excited to be part of this project as it rounds off what is now a completely circular offering. We often work alongside farmers to plant trees on their land and manage those woodlands to sequester carbon, and once those trees have reached maturity and been harvested we can now use the co-products – in this case the wood chip – to add carbon back to the land in the form of biochar. This is an important first step and one we already hope can be replicated on a larger scale, with the backing of our expertise and many manufacturing sites across the country."
Arla owner and farmer David McMiken comments, "Most Arla Farmers are already measuring their carbon footprint through Arla's Climate Check programme with the data showing Arla farmers produce milk with around half the emissions of global dairy production. Game changing innovations such as biochar will be welcomed by farmers providing they are affordable to work with. Personally, I welcome this approach from the Government which could have significant impact in bridging the gap between the potential of new technologies and the economic realities of farming. After all, at the heart of most farmers is the desire to produce the best possible food made in the most sustainable way so that the land is looked after for the generations of farmers to come."
Having been granted Phase One funding in the Direct Air Capture and Greenhouse Gas Removal Technologies competition, Arla will now ask its 2,400 UK farmer owners to volunteer to participate in the feasibility trial over the next six months. The process will look at what would be required of all parties to establish the biochar network with the intent of having a feasible model ready for trial and eligible for funding in Phase Two of the Government competition.
Arla farmers can register support at farming@arla.co.uk or find more information on the Arla owners website.
Contact Information
Flic Callaghan
07980 948159