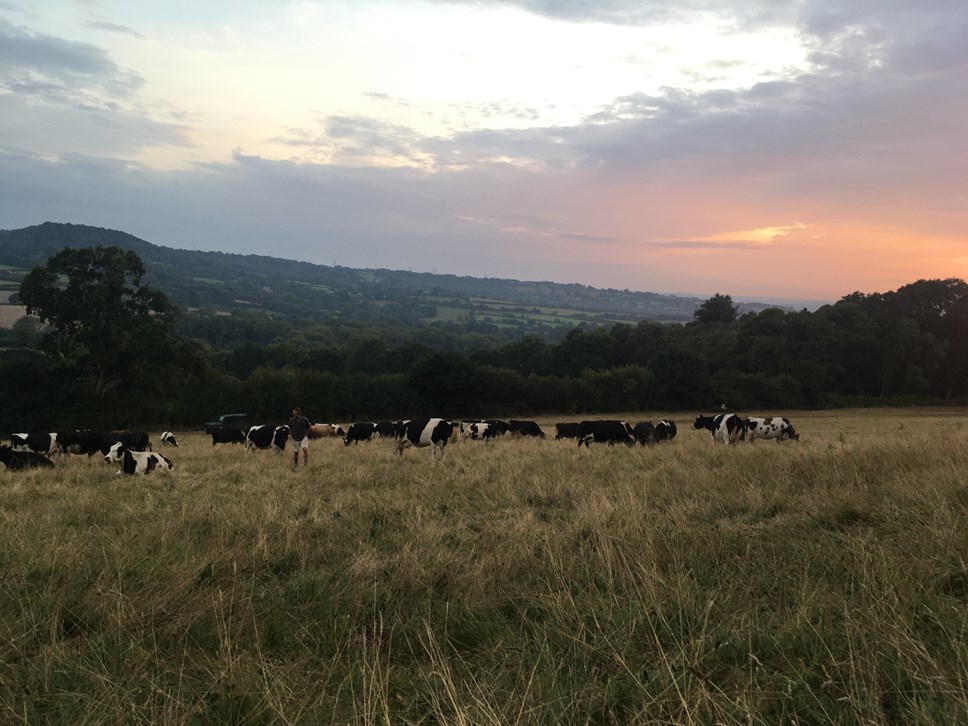 Arla dairy farmers to open up countryside to children across the UK for Virtual Farm Sunday
A huge part of education is visiting new places and experiencing new things. With the start of the school term this week, many children have not been able to enjoy those experiences this summer thanks to the restrictions of COVID.
Yet seeing nature is more important than ever now, with research showing that when children connect with nature it improves their wellbeing. Just an hour a day spent taking part in activities involving nature impacts positively on children's ability to do their schoolwork, helps them have better relationships with classmates and makes them feel more confident in themselves.[1]
While travelling to new places is harder than normal at the moment, Arla, the farmer owned dairy cooperative is teaming up with LEAF (Linking Environment And Farming) to help give all families in the UK a taste of the country all from the comfort of their own home.
LEAF Online Farm Sunday is being held on Sunday 20th September and offers a host of activities for families and children to learn about life on a farm. This includes a tour round an organic farm in Somerset with Arla farmer, Sophie Gregory and her husband Tom, which will be streamed live on the LEAF Facebook page. The virtual tour will include a visit to meet some of the cows and a live demonstration of how the farm dogs help to move them from field to field!
Sophie and Tom will also be talking about some of the steps they've taken to protect the environment. For example, they've replaced chemicals with seed varieties for fertilisation, and grow as much cow feed on farm as possible, reducing the farm's carbon footprint. Promoting wildlife, they also make sure to include clover in all their grass mixes, which provides a perfect habitat for bees.
The virtual day is replacing the annual LEAF Open Farm Sunday event, where Arla farms across the UK would traditionally open up their gates to families so they can get a taste of what life in the country is like. This year, due to the challenges of social distancing and in an effort to help even more children take part, it's going virtual with thousands more families expected to see what happens on a real life working farm and better understand some of the measures farmers are taking every day to help protect the environment.
Children will also be able to get their hands on a host of additional fun and educational content both on the day and in the following weeks to help them learn more farming life in Britain and the role of dairy in our diets. The specially created Open Farm Platform offers videos, games such as online wellie-wanging, plus a host of quizzes and worksheets on topics such as what farms are doing to protect the environment and what makes a healthy breakfast. The worksheets have been created in conjunction with Magic Breakfast, a national charity that aims to 'end hunger as a barrier to education in UK schools' by providing free, healthy breakfasts to children at risk of hunger in the morning schools. Arla brand Cravendale contributes the milk for this daily breakfast.
Speaking about Virtual Farm Sunday, Arla farmer, Sophie Gregory said: "I'm delighted to be involved with the online programme this year. I'm looking forward to showing families what a working farm looks like and help them understand more about farming issues such as sustainability along the way. My husband Tom and I are passionate about organic farming and we want to show the next generation, including our own three young children, that it can be a job for the future."
Graham Wilkinson, Director of Agriculture at Arla Foods, comments: "Arla has been taking part in Open Farm Sunday for a number of years. This time while our farmers are sadly unable to open up their farms for visits in person, Virtual Farm Sunday actually gives even more families the opportunity to access the experience. We hope children across the UK enjoy learning a bit more about farming practices but most of all have fun along the way!"
LEAF Online Farm Sunday
To see the full schedule of LIVE farm tours on Sunday 20th September visit: https://farmsunday.org/online-farm-sunday/schedule
Follow #LOFS20 to virtually visit farms across Britain throughout the day!
Notes to editors
[1]Monitor of Engagement with the Natural Environment report
2Study by the Institute of Education at UCL