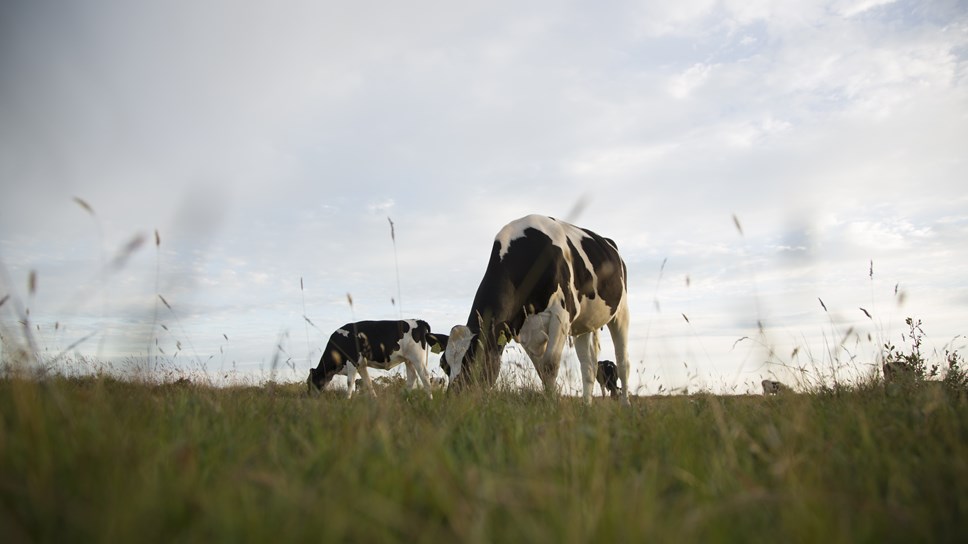 Arla partners with key customers in UK retail and foodservice industry to accelerate sustainability work on dairy farms
In yet another breakthrough moment for Arla's industry-leading sustainability programmes, Britain's largest farmer-owned dairy company has turned its unrivalled access to on-farm climate data into new commercial partnerships covering more than 1 billion litres of milk.
By giving customers the opportunity to reduce their Scope 3 emissions faster along with more accurate reporting, Arla has signed new agreements with Aldi, Asda, Morrisons, and Starbucks™ that create deeper farmer and customer collaboration through projects to deliver progress towards shared climate targets.
The new commercial agreements cover a total milk pool from Arla's UK farmer owners in excess of 1.1 billion litres, all supplied from farms that are part of Arla's climate check data programme and Sustainability Incentive Model which enable farmers to identify the most efficient ways to reduce emissions on farm through clear data insights and financial incentives to help fund the investments needed.
Arla has combined all its on-farm sustainability measures in a newly developed Customer Sustainability Program (CSP) which is aimed at creating value for its retail and foodservice customers, who are all looking for ways to lower their scope 3 emissions.
"Driving down scope 3 emissions is another way of bringing value to our customers, and we want to be a strategic partner for them in that journey. Dairy is an important category for our retail and foodservice customers, and for some of them, emissions from dairy constitute a significant part of their scope 3 emissions. Currently, this translates into increased interest in entering into partnerships, which we welcome. Our scope 3 leadership also provides us with new commercial and strategic opportunities for our milk pool," says COO and Executive Vice President of Arla Foods Europe, Peter Giørtz-Carlsen.
Customers to invest in Arla farmers' sustainability work
Customers who have signed up to partner with Arla on the Customer Sustainability Programme will invest extra money in the cooperative's ongoing efforts to reduce emissions on-farm, and in so doing gaining access to:
A closer link to Arla's farmer owners through on-farm R&D projects and pilots
Access to more accurate on-farm data with CO2 footprint per kg/milk and customised data reports
Claimable CO2e reductions
These components will also enable a partnership to work towards Product Carbon Footprint capabilities expectedly from 2024 and beyond.
In addition to the added investments from customers through the CSP, Arla has earmarked up to 500 million EUR each year to reward and motivate farmers, of which 300 million is now activated.
Arla will also run projects with the participating customers and their aligned Arla farmers that look to reduce on-farm emissions through new research and testing new innovations for potential scaling within areas such as feed additives, herd genetics, biodiversity, fertilizer use etc.
"In our strategy we focus extensively on driving down our on-farm scope 3 emissions as they make up the vast majority of our emissions. In Arla, the breakthroughs are happening now. We believe we have found an impactful route and levers to drive down scope 3 emissions, and we are strongly committed to this effort as it benefits the planet and brings value to our customers. But we do it for dairy too – dairy provides significant nutritional benefits to human diet, which must not be jeopardized due to its impact on climate and the environment," says Peter Giørtz-Carlsen.
Arla's Sustainability Incentive Model has been drafted in close cooperation with Arla's farmer board and by involving Arla's 8,500 farmer owners, and they welcome the commitment of Arla's customers to support Arla farmers' sustainability efforts through the CSP.
"It is our experience that carrots are better than sticks, when it comes to driving real impact on farm. That is why we believe support, incentives and partnerships are the key for success to reduce scope 3 emissions, and as farmers who own Arla we are pleased to see customers like Aldi, Asda, Morrisons, and Starbucks partner in the future of sustainable dairy production," says Arla farmer from Chester, UK and member of Arla's global Board of Directors, Arthur Fearnall.
Working with customers across Europe
In Arla, scope 3 emissions constitute approx. 96% of total emissions and if isolating emissions from the dairy farms, these constitute approx. 81% of Arla's total emissions.
In 2019, Arla was among the first dairy companies globally to set an SBTi scope 3 emissions reduction with a target of 30% per kg. of milk towards 2030 against a 2015 baseline.
Arla's new Customer Sustainability Programme (CSP) will continue to be rolled out to retail and foodservice customers across its European core markets during 2024.
You can read more about Arla's Climate Check programme, Sustainability Incentive Model and other sustainability measures on www.arla.com
Contact Information
Kate Durrans