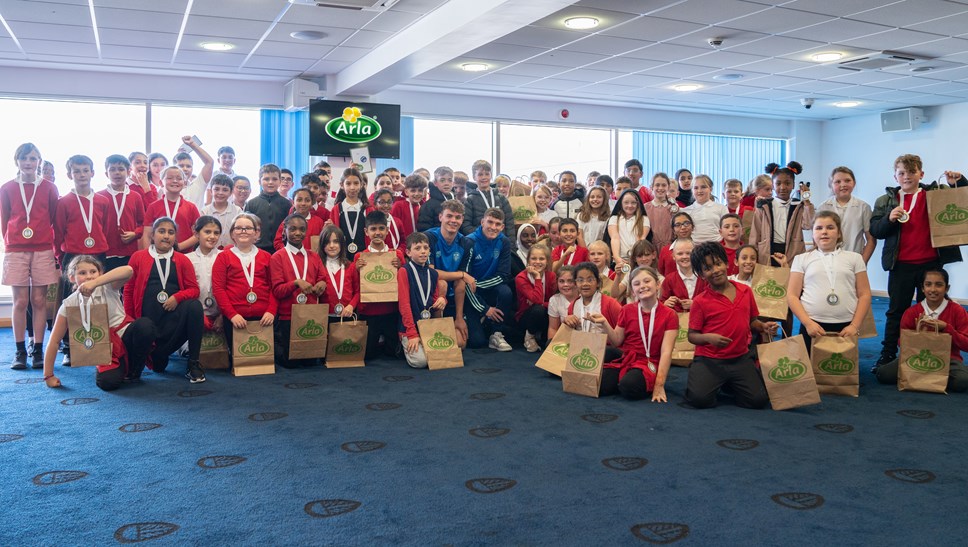 Arla partners with Leeds United Foundation to kick off food education classes
Arla, the UK's largest dairy cooperative, has announced it wants to call time on food insecurity in young people, by kicking off food education classes, in partnership with Leeds United Foundation.
As part of the campaign, children will learn the basics of where food comes from, the importance of a balanced diet, physical education and how to make simple, healthy meals and snacks. Arla's contribution will enable Leeds United Foundation to provide food hampers for families, as well as the opportunity for young people to participate in a number of sports activities.
Arla, which is headquartered in Leeds, has been working in partnership with Leeds United Foundation since 2021 to provide education on food, nutrition and healthy lifestyles to young people across the region. More than 6,900 young children and families have already been reached through this partnership – with the aim to reach 8,500 by the end of 2023.
Speaking about the partnership, Rachel Campbell, Arla brand and sustainability director, comments: "At Arla we believe that eating healthily should be easy, accessible and enjoyable, and this starts with ensuring children understand where their food comes from. We want to call time on a lack of education in this area, which is why we've partnered with Leeds United Foundation to provide meals and workshops to as many young people as possible."
A spokesperson for The Leeds United Foundation, adds: "The partnership with Arla has allowed us work in our local communities supporting local families with a range of activities including primary school lessons and holiday provision, which encourages young people to lead active lifestyles, developing skills and build confidence."
Contact Information
Fiona Lane