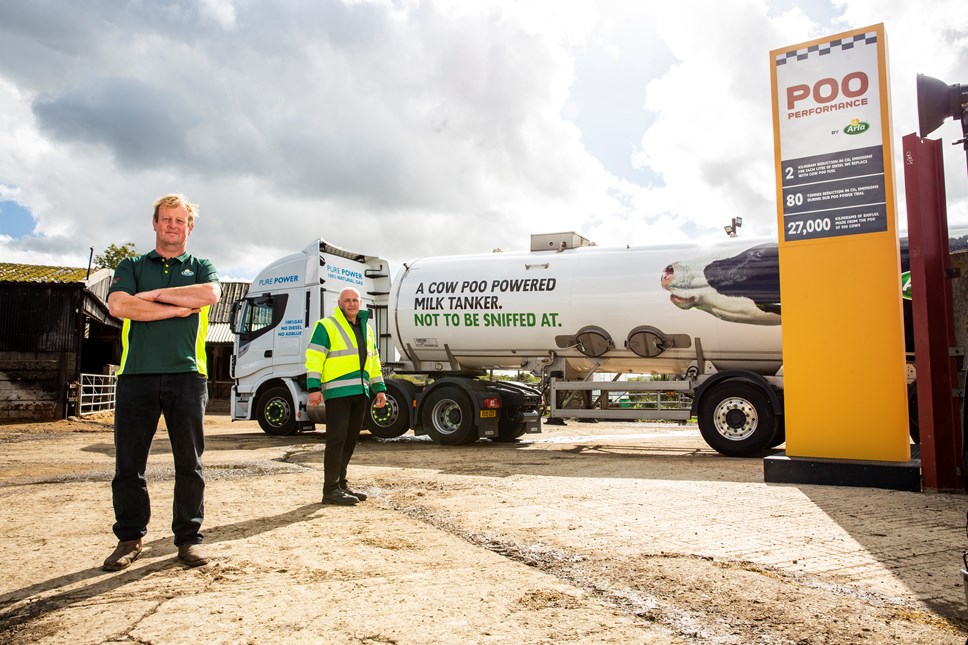 Forget horsepower, Britain's farmers are turning to cow power in a bid to be more sustainable
Arla unveils UK's first dairy farm 'fuel station' as new trial transforms cow poo into power
Trial will use poo from around 500 cows to create 27,000kg of biofuel to power dairy delivery trucks
The three-month trial will reduce Arla's carbon impact by 80 tonnes
The UK's leading dairy cooperative is getting in gear with its sustainability efforts and transforming cow manure from its farms into vehicle-friendly fuel in a major new trial.
Arla's initiative will mean that for the first time, farmers will send their cows' poo to a nearby anaerobic digestion plant where it will be broken down into different components, including clean bio-methane, and converted into usable fuel.
The trial makes Arla the first UK business to use waste from its own farms to generate power for its fleet. The process will also create nutrient rich, natural fertiliser which Arla farmers can put back on to farms, making it an entirely closed loop, something that hasn't been done before.
The three-month test will involve two special Arla tankers that have been adapted to run on biofuel transporting milk between dairy processing sites. Together they are expected to cover around 90,000km and help reduce Arla's carbon impact by 80 tonnes – the equivalent to 23 car journeys around the world. Proving that muck is just as important as milk, Arla will use manure from 500 cows – that's around 190 tonnes of slurry each week – to create a staggering 27,000kg of biofuel to power the trial vehicles.
To mark the launch of the initiative, the farmer-owned cooperative has launched the UK's first cow-powered fuel station on one of the farms taking part in Winslow, Bucks. Ian Barker, an Arla Farmer involved in the trial said: "Many of us recognise how valuable a cow's milk is, but many aren't aware that manure is just as important. Processing cow manure in this manner provides us with a limitless source of energy, plus the digestate, or solid matter, left over after the process makes an even richer fertiliser for my fields, so it's a win-win."
Graham Wilkinson, Agriculture Director at Arla said: "Using manure from our farms is helping us reduce our waste and rely less on air-polluting fossil fuels so it's a no brainer for us. With the help of our farmers and partners, we have a fully closed loop which at scale, could be revolutionary in helping fuel a greener future."
Arla is using the trial to assess opportunities for scaling poo-powered transport opportunities across its value chain. If it proves a success, it will lay clear foundations for how the dairy industry can join forces with Government and other partners to enable new fuel solutions that reduce environmental impact.
Contact Information
Flic Callaghan
07980 948159
Notes to editors
About Arla Foods
Arla Foods is a global dairy company and cooperative owned by 9,700 dairy farmers with circa 2,400 of whom are British.  With production facilities in 11 countries and sales offices in a further 30, Arla is the world's fifth largest dairy company and largest supplier of organic dairy products. Arla has a total of more than 18,000 colleagues and its products are sold under the well-known brands Arla, Lurpak and Castello in more than 100 countries.
Arla Foods UK is the largest dairy company in the country and is home to leading dairy brands Anchor, Arla Cravendale, and Arla Lactofree. As well as being a leading supplier of fresh milk, number one in butter, spreads and cream, Arla is the UK's largest cheese manufacturer. It has also built the world's largest fresh milk facility located at Aylesbury that later this year will become the first net zero carbon site of its kind. The UK business has a team of approximately 3,500 colleagues located at its dairies, creameries, distribution centres and head office.