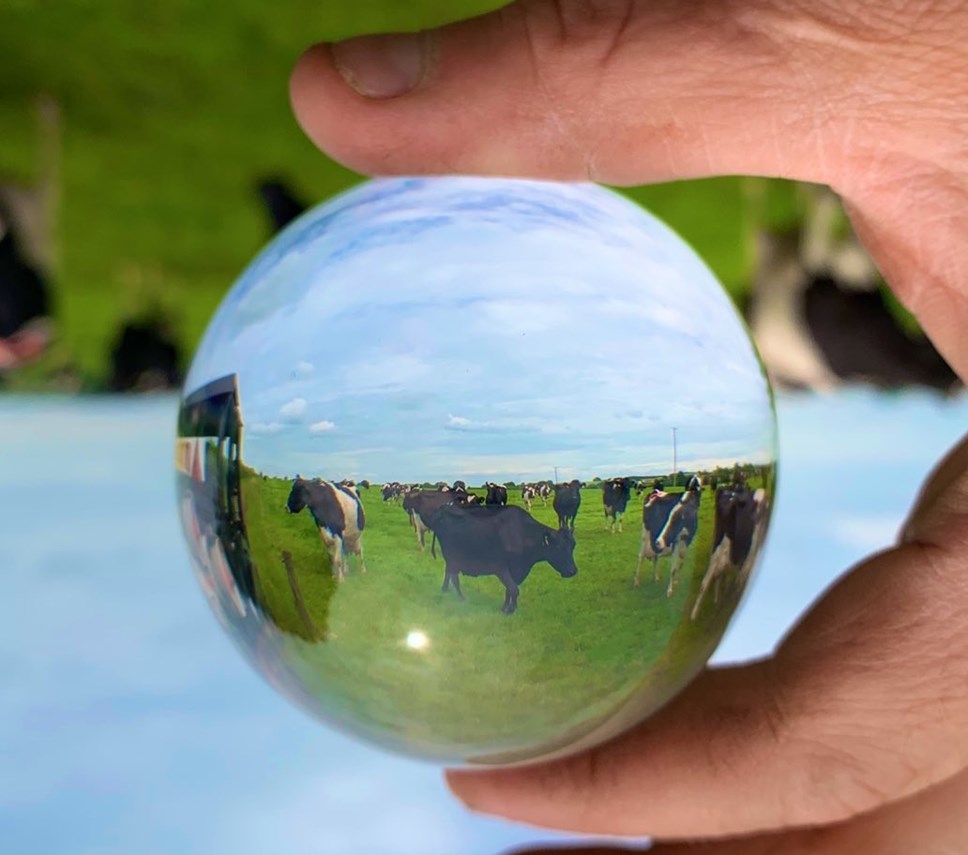 Research & Development
Farmers are resourceful by nature, finding all sorts of ways to fix things, reuse things and rethink things. With the significant technological advancements in agriculture, a changing legislative landscape through the Agricultural Bill, Arla's partnerships with retailers and food service operators, and the ambition of our farmers to always be the best they can be, you'll usually find at least one Arla farmer involved in any significant UK developments in dairy.
Arla UK 360 R&D projects
Our Arla UK 360 programme leads our official research and development programmes in the UK. Through this programme, Arla farmers work with our retail partners to explore areas of potential development for the industry. This can cover any aspect relating to the six areas of the 360 programme.
Our live projects include:
The Happy Cow Measure
Technology is already changing farming, but the continued evolution of technology, combined with animal behavioural principles, data and artificial intelligence means we could be on the precipice of being able to truly measure the well being and happiness of a cow. Because this technology is not yet in existence it will require the bringing together of a number of different metrics and measurements.
As the first step towards this, a trial has begun with 3D imagery systems will which help farmers identify changes in each cow's physical well being, mobility and weight, before they are visible to the human eye.
The technology, Herdvision, has been developed by Kingshay working in partnership with the Centre for Machine Vision in the Bristol Robotics Lab at the University of the West of England and AgsenZe. It removes measurements that currently have to be made subjectively by the human eye, and instead uses visual monitoring, data recording and automated intelligence to assist in managing cow welfare. Find out more here.
Project Pollinator
A small group of Arla farmers have launched a trial initiative to see whether their efforts for environmentally friendly dairy farming can be broadened to help increase wild bee populations given the crucial role they play in supporting our ecosystems.
Project Pollinator, will see the farmers set aside areas of land to help vital bee pollinators. Farmers will cultivate, seed and farm the land to create the best possible habitat for a variety of insects, which are crucial in pollinating many of the crops we all rely on. 15% of our farmer owners already work with independent nature organisations to support bio-diversity and many more have their own on farm biodiversity initiatives. However, the focus of the trial will be to explore whether selecting and cultivating flowers specially for bees and farming the wildlife can help change the declining numbers of bees.
#Bees and dairy farmers may not be the usual partners but the enthusiasm for the work being done on our #projectpollinator trial as part of Arla UK 360 is inspiring. Here's an update from our farmers in response to all the questions we've been getting #mondaymotivation #teamdairy pic.twitter.com/h63shczkZK

— Arla Foods UK (@ArlaFoodsUK) July 8, 2019
Other farming R&D projects at Arla
Carbon Sequestration
Many aspects of dairy farming have a positive impact on the environment, working alongside nature to help take carbon out of the atmosphere. We believe that a better understanding of carbon sequestration will make it easier for farmers to follow an evidence based approach to further improvements in farm management practices that are best for the environment. As a member of the C-Sequ Dairy Sustainability framework we are part of a group aspiring to develop an internationally recognised and globally adopted carbon sequestration calculation method to be used in Carbon Footprint assessments at farm level.
The photography on this page is provided by James Muir, an Arla farmer from Staffordshire: @muirtwit