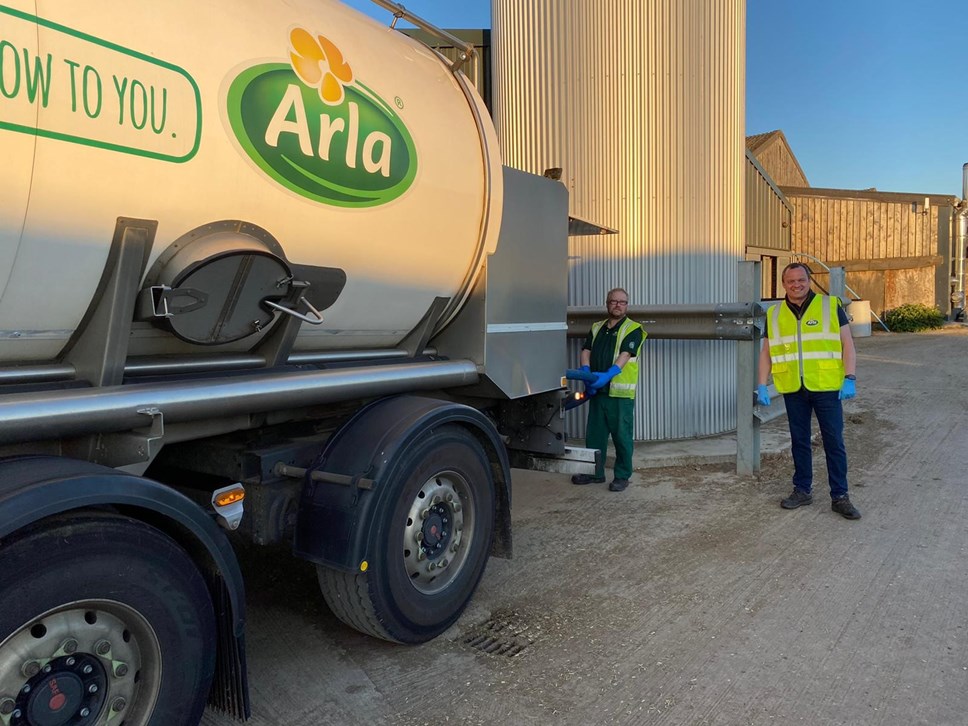 Arla reveals it has trained its farmer owners to provide a back-up option for milk collection during Covid-19 pandemic
Arla Foods, the UK's leading dairy co-operative, has revealed the significant lengths it went to to ensure the continuity of milk collection during the Coronavirus outbreak.
When coronavirus contingency planning moved into full swing at Arla Foods UK, it was recognised that if a significant number of milk tanker collection drivers went off sick, the company would struggle to fulfil its cooperative obligations to collect all the milk from its 2,400 UK farmer owners. The skillset of in-bound drivers is incredibly specific; as well as collecting the milk from farms, they are responsible for monitoring and testing temperature and quality to ensure food safety during transportation.
To avoid a situation where there might be a drop in drivers, Arla trained 19 dairy farmers and 10 members of its agriculture team to provide a back-up option for its logistics team if needed. The training was well received by staff, ran smoothly, and was delivered with the learning that cross-business education is a positive move for Arla in the long run.
Arla's Agriculture Director, Graham Wilkinson, explains, "Arla's cooperative ethos meant from the start of the pandemic, its farmer owners were asking what they could do to help the business. When we asked the elected farmers to help us with this challenge there was no shortage of volunteers."
The move meant that as well as implementing the standard coronavirus measures on farms, the farmers had to undergo video training and practical training with the tanker using social distancing practices. Should there be a shortage of tanker drivers, Arla would then be able to use drivers from outside the industry with the newly trained farmers available to follow the tanker by car and manage the milk collection and quality checking aspects at farms in their region.
Arla farmer Carrie Burridge comments: "The training was great. It really makes you stop and think about just how important the quality of our milk is. Using the technology to test samples and learning how many safety precautions are in place really surprised me, but it's definitely made me value our tanker drivers even more. I was very impressed that Arla managed to pull off the training and put in place so many measures to keep us all safe in the process."
To support the elected farmers, ten of Arla's agriculture team, located across the UK, also undertook the training, including Agriculture Director Graham Wilkinson. Speaking about his involvement, he commented:, "If we're asking our farmers to provide extra support to the business, I also wanted them to feel supported by us too. As the saying goes, you should never ask your team to do anything you wouldn't be prepared to do yourself."
The training covered the collection process, the health and safety procedures, collecting, labelling and testing samples, the insurance requirements, and the necessary hygiene steps needed to ensure their fellow farmers milk was protected.
Whilst the immediate risk has subsided, with the possibility of a second peak and the duration of coronavirus unknown, the farmers and Arla's agriculture team will remain on hand to support Arla's logistics team if needed.
The initiative was one of many across Arla Foods as colleagues have taken on additional training to provide back up support at production sites to business functions most impacted by recent events. In total, over 21,000 hours of coronavirus related training has been carried out by Arla in the last two months.
Commenting on the willingness to adapt to change, Graham Wilkinson added: "Being a cooperative is not just a business model. It shapes the way you think, your attitude to those you work with and the decisions you take. Never has our cooperative ethos been so evident in action as it has in these past few months. We are very grateful to all those farmers and colleagues who have stepped up to help support the business and keep the milk moving."
Notes to editors:
Social distancing and health and safety measures were implemented at all times throughout the training process to protect colleagues and farmers