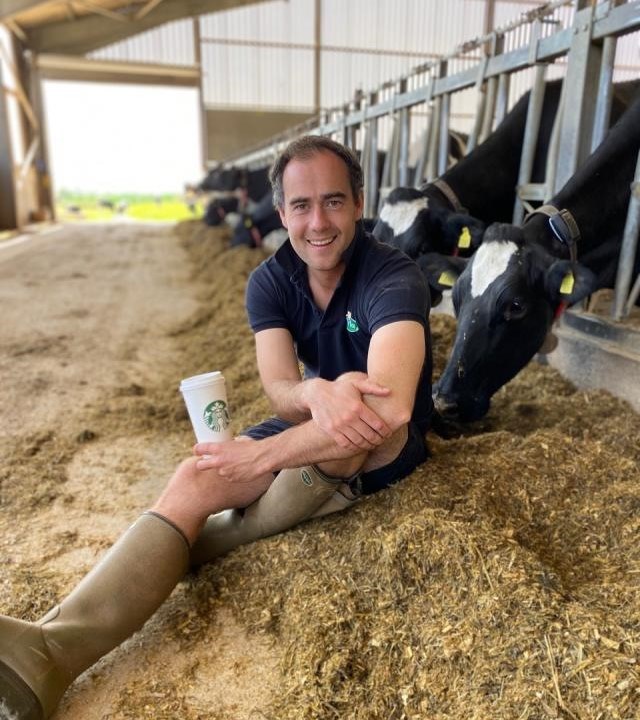 Starbucks to work directly with farmers to help reduce emissions
From January 2022, Arla and Starbucks will develop and pilot a new sustainable dairy sourcing blueprint for Starbucks, designed to help reduce the coffee chains carbon emissions from dairy
At the end of the three-year pilot, Starbucks hopes to scale the blueprint to support Starbucks dairy suppliers across Europe, Middle East and Africa (EMEA).
The pilot will work with 14 of Arla's UK farmer owners, bringing in the broader scientific and sustainable farming expertise of Arla and working with an independent advisor appointed by Starbucks
This supports both Starbucks ongoing commitment to reduce greenhouse gas emissions by 50 percent globally and Arla's target to reduce greenhouse gas emissions by 30 percent per kilo of milk by 2030
With dairy emissions accounting for 22% of Starbucks global carbon emissions, the coffee chain has partnered with farmer owned dairy cooperative Arla Foods to work on a three-year pilot to create an industry leading sustainable sourcing blueprint. This blueprint will go on to support its dairy suppliers across Starbucks Europe, Middle East and Africa (EMEA).
Arla's farmer owners are some of the most carbon efficient dairy farmers in the world, already producing milk with around half the emissions of the global average, making them the obvious choice to help Starbucks meet its aspiration to become resource positive.
The pilot will see Starbucks work directly with 14 Arla farmers in the UK to identify innovative new farming practices and industry-leading methods to significantly reduce the emissions associated with dairy production. Starbucks and the selected Arla farmers will focus on three key areas: environmental stewardship, animal health and welfare, and ensuring profitability for the farmers through the industry leading Arla UK 360 farm standards programme.
The sourcing blueprint will be underscored by Arla's sustainability research and development work, and independently validated by a third party, who will help support and advise on developing industry best practices.
Alex Rayner, General Manager at Starbucks UK, said: "This partnership with Arla and the dairy farming community underpins our commitment to produce high quality and responsibly sourced products.
"Starbucks and Arla share a commitment to upholding the highest standards in agriculture. As a farmer-owned business, Arla's approach – including their cooperative principles – make them the right partner for us.
"Purchasing sustainable dairy is integral to our work expanding our environmentally friendly menu options, while enhancing the Starbucks Experience. Customising beverages has and always will be at the heart of Starbucks, and this programme will help ensure that best practice carbon reduction strategies are being implemented across our entire milk and dairy alternative selection."
The 9,400 dairy farmers that own Arla Foods have been working to produce more sustainable dairy for over two decades. At the heart of its production methods are emissions reductions, actions that boost natural cycles and a commitment to some of the highest standards of animal welfare. These on farm methods go on to produce some of Britain's best loved dairy products such as Lurpak and Arla Cravendale.
Speaking on the announcement, Graham Wilkinson, Group Senior Agriculture Director at Arla Foods comments, "It is a huge testament to the sustainable farming practice of our owners that Starbucks has chosen Arla to support its sustainable sourcing development work. Our carbon net zero ambition recognises the importance of both lowering emissions and providing a helping hand to nature, but it is hugely important that Starbucks has also acknowledged the importance of taking a farmer first approach to deliver this.
"I hope it also provides reassurance to Starbucks customers to know that behind every cup is a combined effort to support farmers to run profitable and sustainable dairy farms."
Mark Glanvill is one of the Dairy farmers who has been selected to be part of the programme. He farms in the Southwest of England with 280 cows on a farm that has been passed down through generations of his family since 1816. Mark works to keep his carbon footprint as low as possible, with a particular focus on limiting the feed brought on farm, using natural fertilisers and reducing chemical usage wherever possible. Like most Arla farmers, he calculates his carbon footprint annually to identify ongoing areas where he can continue reducing his emissions.
Mark comments, "I am very excited to go on this journey with Starbucks. Whilst Arla's dairy farmers are at the forefront of reducing emissions of dairy, it has to be recognised that this comes at a cost to production, our action can only be as fast as our finances allow. In joining the Arla UK 360 programme, Starbucks has shown recognition of this whilst its blueprint ambitions also demonstrate an understanding that sustainable sourcing must meet the criteria of good nutrition made with lower emissions and a helping hand for nature."
Starbucks will also be working with scientists from The Nature Conservancy, a global, and environmental stewardship non-profit who will support the partnership.
Forming work to meet Starbucks' ongoing commitment to reduce greenhouse gas emissions by 50 percent by 2030 globally and become a resource positive company, this collaboration with Arla also serves to help meet Arla's science based targets of reducing greenhouse gas emissions by 30 percent per kilo of milk over the next decade and to reach carbon net zero by 2050.
Starbucks Global Environmental Ambitions:
In 2020, Starbucks set a bold aspiration to be a resource positive company, storing more carbon than it emits, eliminating waste, and providing more clean water than it uses. Its 2030 goals include:
50 percent reduction in carbon emissions
50 percent reduction of water withdrawal through conservation or replenishment of water used for direct operations, stores, packaging and agricultural supply
50 percent reduction in waste sent to landfills
Further information on Arla's sustainable farming practice and approach to carbon emissions reduction on farm can be found here.
Contact Information
Flic Callaghan
07980 948159
Notes to editors
For more information, please contact:
Starbucks: PressEMEA@starbucks.com.
Arla Foods UK; felicity.callaghan@arlafoods.com/07966 136 112
About Starbucks® Coffee Company
Since 1971, Starbucks® Coffee Company has been committed to ethically sourcing and roasting high-quality arabica coffee. Today, with more than 33,000 stores around the globe, Starbucks® is the premier roaster and retailer of specialty coffee in the world. Through our unwavering commitment to excellence and our guiding principles, we bring the unique Starbucks® Experience to life for every customer through every cup. To share in the experience, please visit us in our stores or online at https://stories.starbucks.com/ and www.Starbucks.com.
About Arla Foods
Arla Foods is a global dairy company and co-operative owned by 9,400 European dairy farmers, 2,240 of whom are based in the UK
In the UK, Arla Foods is the largest dairy cooperative in the country and is home to leading dairy brands Anchor®, Arla Cravendale®, and Arla Lactofree® with a 2020 revenue of €2.3 billion (approx. £2.1bn)
Dating back to 1881, Arla's purpose is to secure the highest value for its farmers' milk, while creating opportunities for their growth. With production facilities in 11 countries and sales offices in a further 30, Arla is the world's fifth largest dairy company and largest supplier of organic dairy products. Arla has a total of more than 18,000 colleagues and its products are sold under the well-known brands Arla®, Lurpak® and Castello® in more than 100 countries.
About Arla UK 360: The programme encompasses a range of standards across the six areas with a particular focus on animal welfare, the environment and research and development. The standards are designed so that all farmers can deliver to outcome-based measures no matter their farm system. Farms on the Arla UK 360 programme can therefore include organic farms, housed and grazing farms, and farms across the UK with different land types and variable weather conditions.
What is different about this programme is that not only does it bring together today's best practice in farm standards, it also establishes a platform to partner with retailers and food service companies to take forward R&D projects and wider innovation which will lead the dairy agenda of the future.